I spoke Voronwë about the idea of starting a "personal reporting" thread on the Presidential election.
I happened to run into a McCain-Palin rally in town today, quite by accident, and I got some pictures, which inspired the idea.
So this thread is where you can report on your own impressions of rallies, campaign work (if you are involved) etc as opposed to the hot and heavy discussions of policy and strategy as found in the main thread, which primarily references mainstream media rather than personal accounts.
------------------
I was going out for my regular after work bike ride today, when I noticed that the streets around the courthouse downtown were packed, and many were cordoned off.
A McCain-Palin political rally was going on.
The presence of a Republican rally in Media, Pa is both unsurprising and ironic because of the political realities in Media.
Delaware County, in the suburbs of Philadelphia, is known as a Republican stronghold. It includes many of the wealthy communities on the Philadelphia Main Line, but also some of the poorest, such as Chester City.
The county seat is Media, which is a Democratic holdout in the center of the county.
The end result is that the Republicans historically have held rallies here to get access to the Philadelphia market and take advantage of their local power base. Philadelphia itself has been Democratic for many years, so Republican Delaware County is a way to get access.
The irony is that the county seat and courthouse are in Democratic Media.
Anyway, I got some pictures and ran into some folks I knew and some that I didn't, including a Chinese reporter for a Shanghai newspaper who was covering the Presidential race who interviewed me on my impressions (this was right after the incident that follows).
I also got to see a protester get taken down hard. I did not get a picture of that. The police were quite quick and emphatic at that point to tell everyone (including me) to
put your cameras away
. I'm not sure that it was legal for them to do so in the manner that they did, but when there are a dozen cops with sticks telling you to put your camera away, the easiest decision was to back off.
In addition to Palin and McCain, Senator Joseph Lieberman also spoke. He introduced them, in what I suppose was an attempt to give a bipartisan feel to the event, and to counterbalance the many Obama supporters who showed up.
I have some pictures which follow, and I give the locations, which you can reference on Google maps.
Downtown Media, near Courthouse
Here's where I first encountered the crowds on Veteran's Square, lading up to the Courthouse.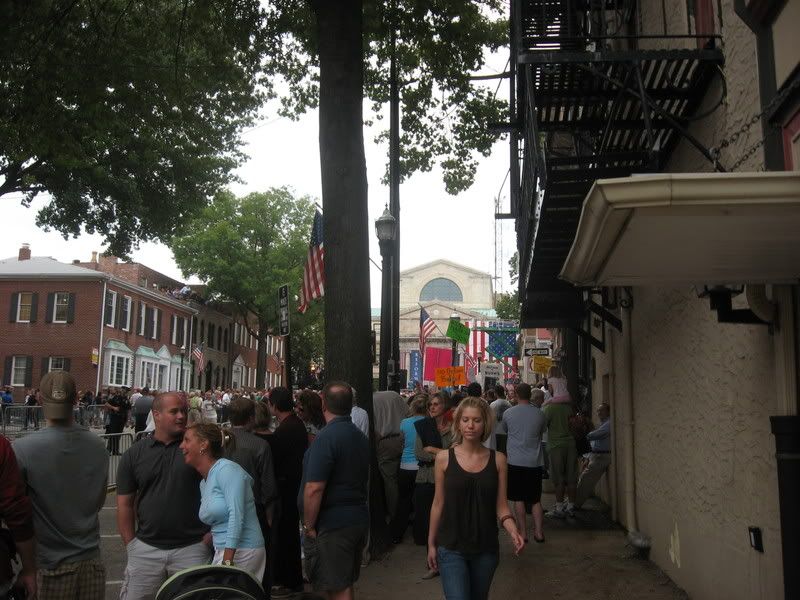 ------------------------------
A little further up there were Obama supporters, and even at least one Ron Paul supporter.
---------------------------------
A view from Olive Street North of the Courthouse, looking down Front St to the steps of the Courthouse, which was where the speakers were.
A view from Orange St up Front, looking the opposite way--I had ridden my bike around to the other side. Right behind me, which you can't see in the picture, were all the TV and Radio vans and emergency services:
Here Palin is speaking; she is the blob with the red jacket below the banner with the word "Peace". This was taken from Pearl St and Veteran's Square, as were most of the rest that follow:
Another view of the Obama and Ron Paul supporters along Veteran's Square:
A couple pictures of McCain: like Palin, he is speaking from a podium below the Peace banner: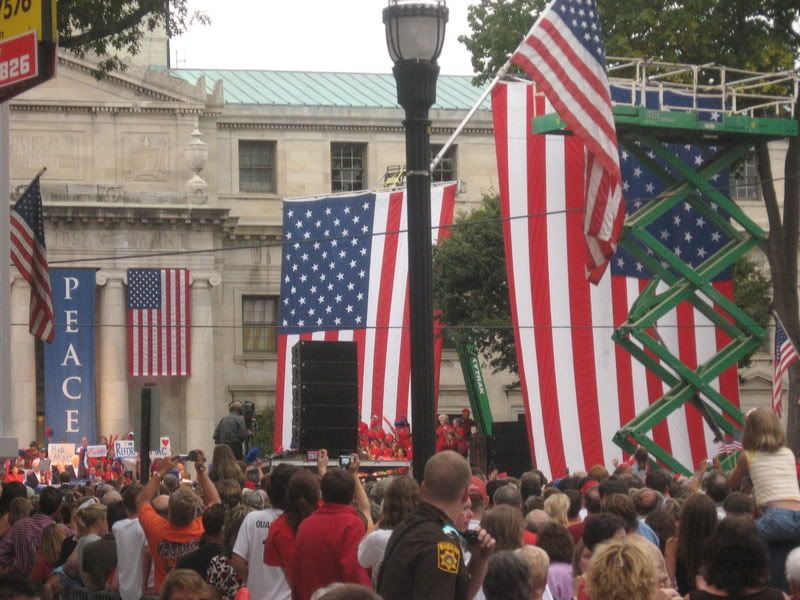 --------------------------------------------
Finally, a (presumably) anti-Palin poster with a picture of Palin in a patriotic bikini, and the slogan--Vote with your Brain:
This was on State St and Veteran's Square:
------------------------------------------
Following this I looped around a while later, as things started to break up, and I was talking to some friends I know in local bands from the music open mikes, when a young dark-clothed "punk" protester came running around the corner with a dozen cops in pursuit on foot and mountain bike.
He was slammed to the ground. As this was happening, a number of people, including myself, gathered round, and I pulled my camera out, as did some others, and police immediately got in our face and started yelling: "Put the cameras away!"
On the corner, there were several other people including several folks of Southeast Asian descent (of which there are a fair number locally), and I spoke to one of them who had a large camera and a press id, the others also appeared to be with him and had a video camera. It turned out that they weren't local, and the one that I spoke to was from a Shanghai newspaper, and he was covering the event for the Chinese market.
We spoke briefly, and he asked about my impressions and what I thought about the race, and took my name. My basic impression that I gave was that I thought that the rally did not contain much substance, which was not unexpected. "Do you love America?" (Cheers.) "Do you love our military?" (Cheers.)
We need to handle the financial crisis. Obama has done nothing....
(My thought: Did
you
read the proposal for the $700 billion bailout on the road today, Senator McCain?)
It served the purpose of a rally, which was to hit a few talking points, and get the people who already support you to cheer.
McCain made a little joke when the crowd yelled in support:
"Today I can truly say that I have Media support!"
I told the Chinese reporter the truth that I hadn't made up my mind yet. However, I also indicated that I felt that Palin was unqualified, which was turning me away from McCain.
BrianIs

AtYou