That's what I have to do to post pics here, too.
And those really are nice, narya!

This one I didn't have to resize, though. The eagle was so high up in the tree at the end of our driveway that by the time I zoomed in and cropped out everything but the bird, the resulting pic was quite small. This was yesterday at lunch. The local eagles really seem to like that tree. Or maybe it's just that that branch is such a perfect perch? I dunno.
Attachment: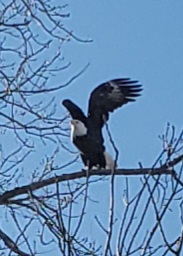 eagle.jpg [ 21.06 KiB | Viewed 1552 times ]
It didn't like me taking its picture. It's about to launch off the branch there.